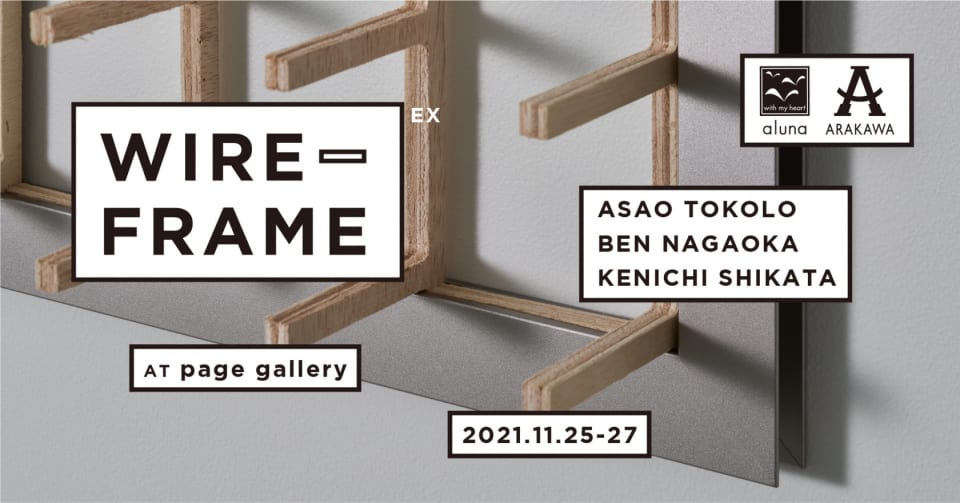 21/11/15
21/11/15
Announcement of the exhibition WIRE-FRAME in Osaka.
WIRE-FRAME in Osaka", an exhibition with three artists, will be held at page gallery in Matsuya-cho from November 25 (Thu) to 27 (Sat), co-hosted by frame maker Arna and wire hardware maker Arakawa Giken Kogyo.
This exhibition was held in October at TIERS GALLERY by arakawagrip in Omotesando, Tokyo, and was a great success with over 500 visitors. (Click here for the Tokyo exhibition)
In June 2021, the aluminum frame "DUO" was completed as a result of the collaboration between Arna and Arakawa Giken. In June 2021, the two companies completed the "DUO" aluminum frame, which is highly evaluated as a picture frame that can be hung vertically from a picture frame and can be used on both sides.
By specifying the "frame", each artist will take a different approach to their work and exhibition.
We hope you will enjoy the works inspired by "DUO" in this exhibition.
Exhibition Outline
Exhibition Title WIRE-FRAME Exhibition in Osaka
Date: November 25 (Wed) – 27 (Sat), 2021
Time 11:00 – 19:00 (Open all year round, Free admission) *Close at 17:00 on the last day
Place Page Gallery (KAIRI EGUCHI DESIGN 1F)
Address: 2-14-8 Kawaraya-cho, Chuo-ku, Osaka-shi, Osaka 542-0066
Organizer: Aruna Corporation, Arakawa Giken Kogyo Co.
Supported by ITL Corporation
Participating artists: Asao Noro (Artist), Tsutomu Nagaoka (Architect, Designer / President of POINT Co., Ltd.), Kenichi Shikata (Artist)
Planning: Yasumi Mihoshi
Photo: Yoshihiro Abe
AD&D Yasumi Mihoshi