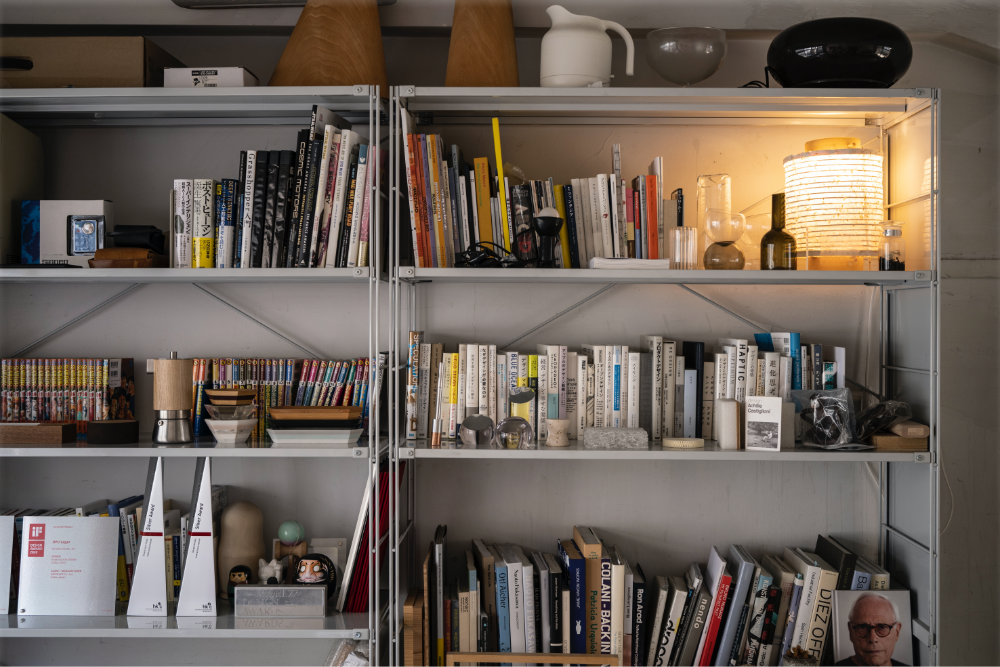 About us
Established in 2008. KED is an industrial design studio based in Osaka that centered on industrial design, product development, branding, directing and etc. Regardless of genres, such as furniture, daily necessities, and electrical appliances, we offer beauty and new, easy-to-use designs. We have exhibited at many exhibitions in Japan and overseas, including three times at Milano Salone in Italy, and are engaged in numerous product development and brand creation in Europe and Asia.
Trade name KAIRI EGUCHI STUDIO Inc.
Establishment Date OCT 1st, 2021
Capital 3,000,000JPY
Address [Osaka Studio]2-14-8, Kawaraya-Machi, Chuo-Ku, Osaka-City, Osaka, 542-0066, Japan
[Tokyo Brunch Studio]#201,Kobayashi Bld,1-6-11,TabataShinmachi,Kita-Ku,Tokyo,114-0012,Japan (In Keieinotameno Sozosha Inc) Please send all mails & deliveries to Osaka head studio.
TEL +81-6-4392-7970
Email info@kairi-eguchi.com
KAIRI EGUCHI
Born in Osaka, Japan. Based in Japan, centered in Asia, designs many furniture, general goods, and electrical appliances. Have exhibited at many exhibitions overseas like SALONE SATELLITE(MILAN ITALY 2012/2015/2016)、EAST DESIGN SHOW(SHANGHAI CHINA 2016)、TAIWAN CREATORS EXPO(TAIPEI TAIWAN2015), Interior lifestyle Talents(TOKYO JAPAN 2013) and etc.
Clients
Panasonic Corporation / Sharp Corporation / Shimazu Corporation / Aqua Corporation / Haier Asia R&D Co Ltd. / Zojirushi Corporation / IRIS OHYAMA Inc. / Nitto Corporation / Kobayashi Healthcare International, Inc. / Earth Corporation / ROHTO Pharmaceutical Co., Ltd. / Aosen Co., Ltd. / Sanei o., Ltd. / Hakuhodo Inc. / Ok-kasei Co., Ltd. / Bio-i Co., Ltd. / Trustlex Co., Ltd. / Johnson Health Care Co., Ltd. / Noritz Corporation / KINUJO Co., Ltd. / Torico Industries Ltd / T-rex Co., Ltd. / Uta-Mikakuto Co., Ltd. / Taniguchiya Co., Ltd. / Synergy Trading Corporation / Daiei Trading Co., Ltd. / Sanby Co., Ltd. / Shiken Co., Ltd. / Sato Keiryoki Mfg. Co., Ltd. / Endokaban Co., Ltd. / Dentrade Co., Ltd. / Angelus Japan Co., Ltd. / Osaka Sharyo Kogyo Co., Ltd. / Sumitomo Electric Industries, Ltd. / Settsu Industrial Co., Ltd. / Showa Industries Co.,Ltd. / Takeda Co., Ltd. / Komatsu Spring Industrial Co., Ltd. / Haier(CHINA) / AUX(CHINA) / M&G(CHINA) / Genki Forest(CHINA) / INTROLEMONS(CHINA) / AIRMATE(CHINA) / JOIN ONE(CHINA) / FILTER MAN(CHINA) / RELEASE; / SASI Co., Ltd. / I-cube Co., Ltd. /Ys design Inc. / U-technosolutions Co., Ltd.
Service
Industrial / Furniture Design / Graphic Design (Brochure・Advertising・Packaging) / Interior /
Space Design / Web Design / Product planning & development / Marketing Research & Analysis /
Branding / Design Consulting & Strategy / Co-operation planning / 2DCG & 3DCG / Simple mock-up /
prototype (foam board model)
Award
2009 / LG MOBILE DESIGN COMPETITION / GOLD PRIZE (JAPAN)
2010 / LG MOBILE DESIGN COMPETITION / GOLD PRIZE (JAPAN)
2011 / LG MOBILE DESIGN COMPETITION / GOLD PRIZE (JAPAN)
2013 / CALIFORNIA DREAM WEEK / 1ST PLACE PRIZE (USA)
2014 / GOOD DESIGN AWARD (JAPAN)
2015 / JIDA DESIGN MUSEUM SELECTION (JAPAN)
2016 / A' DESIGN AWARD (ITALY)
2016 / International Design Award / GOLD PRIZE (USA)
2016 / DFA AWARD (HONG KONG)
2017 / Core77 DESIGN AWARD / PACKAGE : WINNER (USA)
2017 / Core77 DESIGN AWARD / PRODUCT : MENTION (USA)
2020 / iF DESIGN AWARD (GERMANY)
2020 / DFA AWARD SILVER AWARD (HONG KONG)
2020 / Whenzhou International Design Biennial SILVER AWARD (CHINA)
2021 / A' DESIGN AWARD SILVER AWARD (ITALY)
2021 / GOOD DESIGN AWARD (JAPAN)
Exhibition
SALONE SATELLITE 2012 (Milano / Italy)
LIVING & DESIGN de sign de > Renovation 2012 (Osaka)
FFT / Interior Life Style Living Tokyo TALENTS 2013 (Tokyo)
CALIFORNIA DREAM WEEK 2013 (Chico / California / United States)
JAPANESE DESIGN EXHIBITION IN TAIWAN 2014 (Taichung / Taiwan)
TENT LONDON 2014 (London / UK)
Kyomachibori Salone 2014 (Osaka)
SALONE SATELLITE 2015 (Milano / Italy)
DISCOVER JAPAN 2015 (Paris / France)
CREATORS EXPO TAIWAN 2015 (Taichung / Taiwan)
TSUMUTENKAKU 2015 (Osaka)
Viva La Vino 2015 (Osaka)
OSAKA GIFT SHOW ACTIVE CREATORS 2016 (Osaka)
SALONE SATELLITE 2016 (Milano / Italy)
EAST DESIGN SHOW 2016 (Shanghai / China)
COMPOSITION x FLOS 2016 (Osaka)
HANGZHOU CULTURAL AND CREATIVE INDUSTRY EXPO 2016 (Hangzhou / China)
DFA Design for Asia Award Exhibition TOKYO 2017 (Tokyo)
EXPERIMENTAL CREATIONS 2017 (Milano / Italy)
WHITE IN THE CITY 2017 (Milano / Italy)
MILANO SALONE SATELLITE 20th ANNIVERSARY EXHIBITION 2017 (Milano / Italy)
DESIGN TOKYO 2017 (Tokyo)
EAST DESIGN SHOW 2017 (Shanghai / China)
EXPERIMENTAL CREATIONS 2017 (Tokyo)
MATERIAL IN TIME 2018 (Hong Kong)
Design Words and Forms in 10 years 2018 (Osaka)
DESIGN EXPERIENCE EXHIBITION 2019 (Osaka)
N 2019 (Osaka)
NEW NORMAL NEW STANDARD 2020 (Tokyo, Osaka)
iF DESIGN EXHIBITION 2020 (Berlin, Germany)
NEW NORMAL NEW STANDARD 2 mealtime 2021 (Tokyo, Osaka)
DFA Awards Exhibition 2021 (Tokyo)